Skip to Content
Dental Emergency Care in Brecksville, Ohio
Get Emergency Dental Care When You Need It
Emergency dental care needs can arise at any time, and when they do, you may be faced with a great deal of discomfort and distress. At Community Roots Family & Implant Dentistry, we understand the urgency of tooth trauma or pain. That's why we provide prompt and reliable emergency dental care services in Brecksville, Ohio.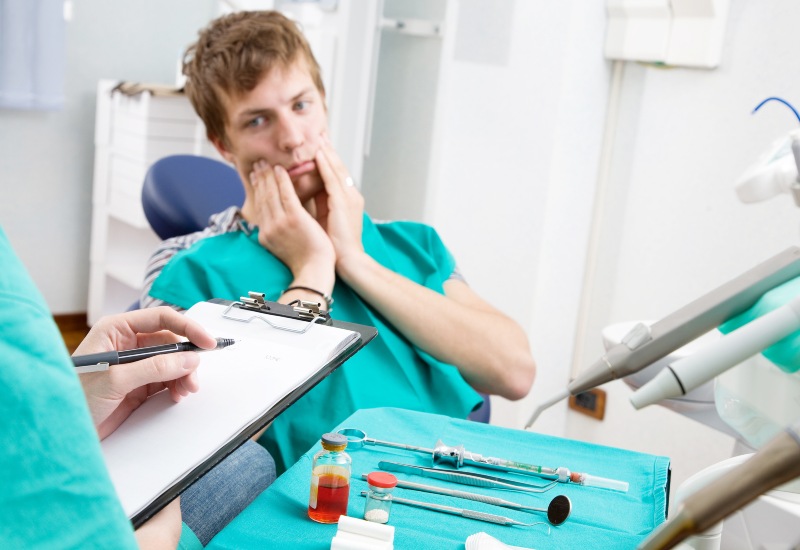 Do You Need Emergency Dental Treatment?
Whether you have experienced significant impact causing a tooth fracture or you've been dealing with a relentless toothache, many conditions can be classified as a dental emergency. If you notice swelling, a missing or broken filling, or persistent pain, it's important to seek emergency dental treatment as soon as possible.
Signs You Need Emergency Dental Treatment
Several common signs indicate it's time for emergency dental care services, including:
Severe and consistent tooth pain
A cracked, chipped, or lost tooth
Broken or missing crown or filling
Excessive bleeding or visible tissue damage in the mouth
Facial swelling
Symptoms of an abscess
Our Emergency Dental Care Services
Community Roots Family & Implant Dentistry extends services beyond general dentistry. We provide an array of emergency dental care services to remedy urgent oral health concerns that cause pain or risks to our patient's oral health. You can rely on us for an immediate, effective treatment that restores your comfort and well-being.
Toothaches
When you are experiencing a severe toothache that debilitates and disrupts your daily routine, keeping you up at night in pain, our emergency dental care team is here to provide relief. We will thoroughly examine and identify the source of the ache to curate an effective emergency dental treatment plan.
Dental Trauma
Dental trauma involves an impact that leads to a cracked, chipped, or missing tooth. When this occurs, our emergency dental care professionals assess the damage, create a personalized treatment plan to preserve the natural tooth, and provide restorative dental treatments that restore your smile, comfort, and happiness.
Tooth Extractions
When a tooth becomes damaged or infected, it may lead to severe oral health risks, such as abscesses or infections. When a tooth cannot be preserved without harming oral health, our dental professionals can perform trusted tooth extractions. Furthermore, we can provide restorative, including implants or dentures, to replace the missing tooth when needed.
The Importance of Emergency Dental Care
Emergency dental treatments not only serve to alleviate pain and discomfort, but they are instrumental in deterring complications that may be associated with emergency dental care needs. Emergency dental intervention can reduce the risk of further damage and infections while enhancing the success of the treatment for glowing results that safeguard your oral health.
Let Our Dental Care Professionals Alleviate Your Discomfort
Community Roots Family & Implant Dentistry is committed to high-quality care. Our state-of-the-art facility is equipped with advanced treatments and technologies, allowing us to most effectively accommodate a range of dental needs. Our team of professionals ensures a pleasant, comfortable experience free of stress and worry.
Call Dr. Timothy F. Pristas for Emergency Dental Care Today
Suppose you suspect you are dealing with an emergency dental care situation or are interested in general dentistry treatments with the leading professionals at Community Roots Family & Implant Dentistry. In that case, our professionals ensure your needs are met precisely and accurately. Contact us today to discuss your dental care needs.
Request an Appointment Today